With the PM expected to call the election sometime this week, we are busy preparing for a big couple of days putting up corflutes and organising doorknock events.
Last weekend was one of the busiest yet!
Even though the weather was less than kind, it was great to get out and meet so many Canberrans - at 13 different events! There were another 17 events I didn't manage to get to but were run by our amazing volunteers. Thank you!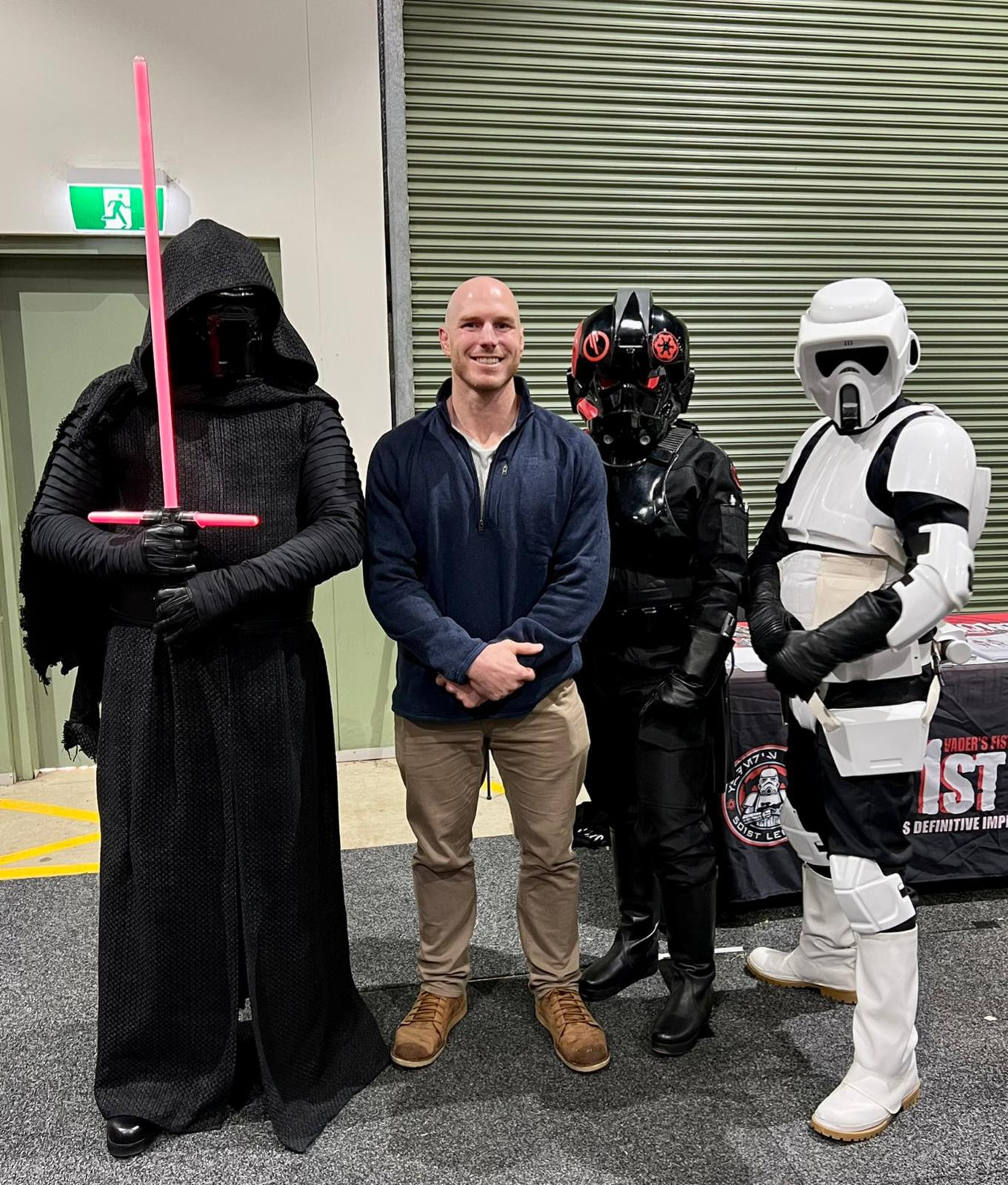 I hung out with stormtroopers at the Geek Markets, got involved in a game of tug of war at the AusIndia Fair and watched the Brumbies Women take on the Western Force at Viking Park.
Once again, a huge shout out to all of our volunteers. We're up against well-funded big party machines. However, we are a community movement that puts people at the centre of politics, which means we have something they don't have - people power.
If you want to get involved and volunteer, you can join the team on my website.
ICYMI - Federal Budget fails again to deliver for Canberra
Last week, the Morrison Government handed down its 2022/23 Federal Budget and, as expected, it was a document almost entirely made up of short term political sweeteners.
I was particularly disappointed to see funding ripped from clean energy and the arts. And of course, Canberra again missed out on its fair share, with overall funding declining by three per cent.
Come meet me at Verity Lane Markets
I'm very excited to announce that we have just secured space at Verity Lane Markets for our new campaign office, which will see us through the election period. Stay tuned for pictures on socials once it's all set up.
I'll be at Verity Lane Markets between 5.30 - 6.30 pm this Thursday to welcome our new volunteers, share our strategy for the election and chat about how we can work together. If you're a volunteer, new or existing, I'd love to have a chat so please drop in.
If you can't make it this time around, don't worry. From now on I'll be aiming to do this at the same time every week.
Car magnets up for grabs
We've just received our first batch of car magnets - and they're looking great.
If you're in the ACT and get around our fair city a fair bit, a simple way to spread the word is by sporting one of our campaign magnets on your vehicle up until election day.
If you're keen to help with this please get in touch at [email protected] 
Reminder: upcoming online event - putting the spotlight on senior Australians
This Friday, I'll be hosting a free online event discussing the issues impacting senior Australians, and the opportunities for meaningful policy improvement.
I'll be joined by ANMF National Secretary Annie Butler and National Seniors Chief Advocate Ian Henschke to unpick the issues and answer the big questions on how we can ensure the needs of older Australians are heard, seen and valued.
If you know anyone who would be interested in tuning in and joining the discussion, please forward them the event invite. 
The Election will be called any day now - and we're ready
With the PM expected to call the election sometime this week, we are busy preparing for a big couple of days putting up corflutes and organising doorknock events.
Thank you again for your support. Whether you're able to give an hour to help doorknock, or are putting a corflute up in your yard, your support will help us to ensure Canberra's voice counts in the Australian Parliament. This is an opportunity to make politics about people and begin to deal with the big challenges we face in a way that turns them into opportunities. 
David