It was so exciting this week to launch a policy we've been working on for some time that will cut household bills, bring down emissions and create jobs.
Developed in partnership with Saul Griffiths and Rewiring Australia we launched this plan to electrify Canberra as the Canberra Times and WIN reported, at this week's Smart Energy Conference.
It starts with a world-first 'Suburb Zero' two-year, opt-in pilot program that will see every household equipped with rooftop solar, battery storage, heat pumps, all electric appliances and an electric vehicle (EV). And would guarantee participating households a 20-25 per cent cut to their energy and fuel bills. 
Using these learnings and putting them into an ACT-wide rollout could, by 2030, be saving households over $5,000 a year and create more than 5,500 tradie jobs. 
With a community that is passionate about this issue, we are the natural home for any trial looking to speed up the smart energy transition.
I'm hosting a forum to talk about this plan and the potential to turn it into a nationwide electrification program 6-7.30 pm next Tuesday 10 May at ANU Kambri Theatre with none other than possibly Australia's biggest brain, Saul Griffith himself. Join us and award-winning journalist Alex Sloan as we take a look at how exciting our future really could be.
Polling
The other big piece of news this week was of course some updated polling that pointed to some really positive results for our campaign.
These things always need to be treated with caution but it is hugely encouraging and a testament to the massive effort everyone is putting in.
Our work is paying off and with only a fortnight to go this is great impetus to double down on our efforts for this final stretch.
Community
Speaking of media, I also had an old friend come to visit this weekend. Fifth-generation farmer Rick Laird who I met almost a decade ago trying to protect his community against mining in our food bowl. Rick's here to dispel a few myths and I'm grateful to him and Tracey for their support.
I attended more candidates debates hosted this time by the Woden Valley, Weston and Molongolo Community Councils and the RiotACT - which was the first one all candidates attended. You can watch it back here.
I had the pleasure of visiting small businesses in Fyshwick as well as seeing first hand some of the extraordinary work being done across our community by organisations such Barnardos, the Narrabundah Food Pantry and Focus ACT.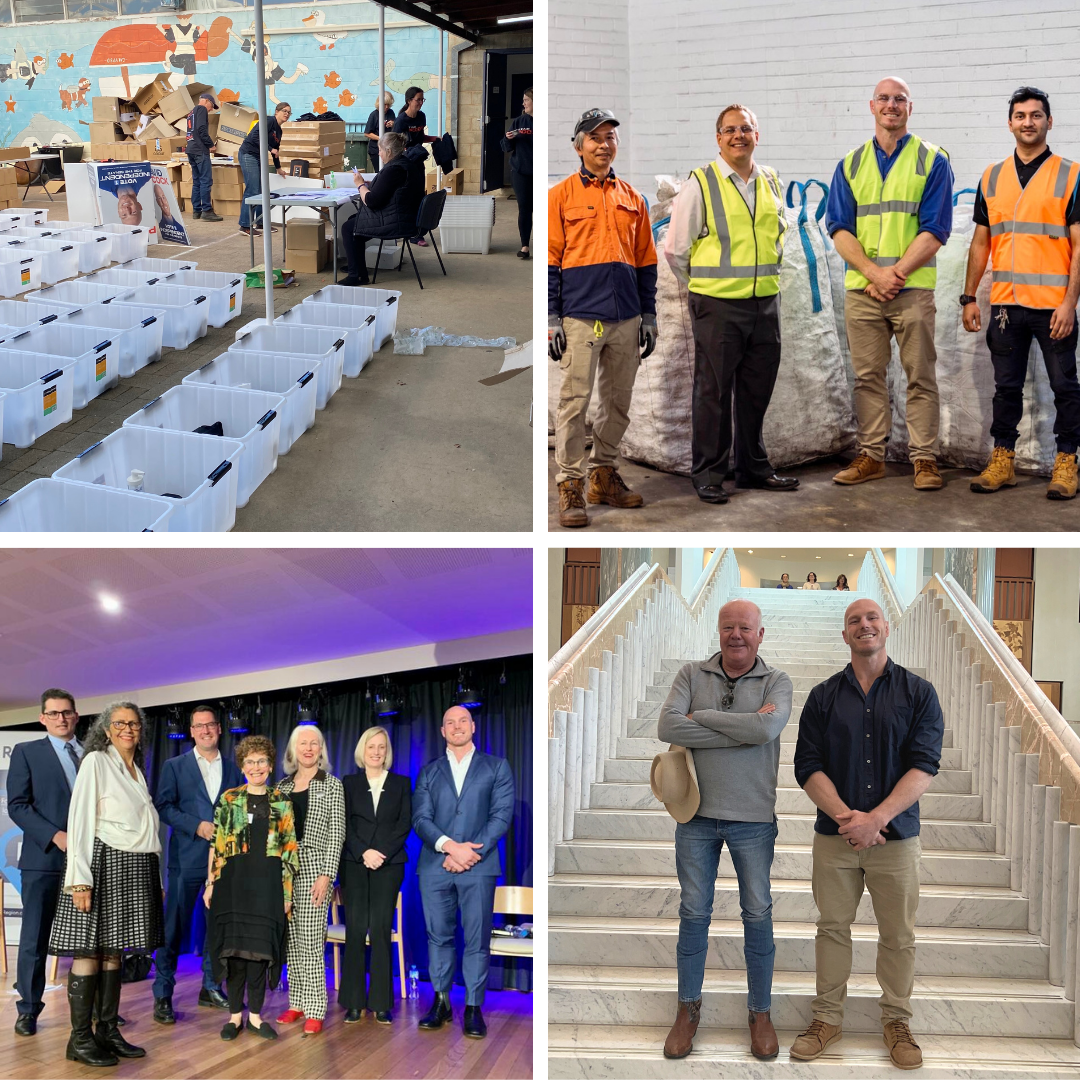 I'd like to give a massive shout out and thanks to all the volunteers - almost 2,000 of you now - who pitched in with the booth kit preparations and are attending training over the weekend.
Election Day

We need to fill around 2,000 shifts across 92 booths on election day. If you haven't already, can you sign up to volunteer for a few hours on election day this Saturday 21 May? Sign up here.
We have over 100 volunteers coming to election day training today and tomorrow. If you haven't already, please sign up to one of our training sessions on Thursday 12 May at 6pm or Wednesday 18 May at 530pm, both at the RUC in Turner.
And we are still looking for a number of booth captains for Election Day. If you are willing to put your hand up for this crucial role please email [email protected] 
Pre-poll early voting
Speaking of election day, pre-poll early voting opens on Monday. You can find a copy of my how-to-vote card here and a list of the pre-poll locations and times below.
Belconnen - Belconnen Community Centre, Belconnen ACT
Canberra City - 11 Moore St Canberra City
Gungahlin - Quokka Pavilion Flemington Rd, Mitchell ACT 2911
Tuggeranong - Lakeview House, 236-242 Cowlishaw St Greenway (enter from Four Seasons Courtyard)
Woden - Cosmopolitan Building Unit 15 21 Bowes St Phillip ACT
These booths are all open the following hours:
9 May - 13 May 8am to 8pm

14 May 9am - 4pm

16 May - 19 May 8am to 8pm

20 May - 8am to 6pm
There is also a booth at Parkes - Old Parliament House. It is only open for one week:
14 May - 9am to 4pm

16 May - 19 May 8.30 am to 5.30 pm

20 May - 8.30am to 6pm
The weekend ahead
Saturday
7.45am - 9am - Lake Burley Griffin Park Run
9.30 – 10.30am, Election Day Training
11am - 1pm - Fraser Big Door Knock 
2.30pm - 4.30pm - Conder Big Door Knock
5pm - 7pm - Ceremonial Puck Drop at the Ice Hockey
Sunday
9am - 11.30am Mother's Day Classic with Dave's mum!
12pm - 1.30pm Eid Al-Fitr Festival, Canberra Islamic Centre, Monash
Thank you!
David